Whoa!!! Somebody stop this horse! No seriously, it's already April 5th?! How did that happen?! Time flies when you're having fun, and let me tell you, we have been having all kinds of fun around here!! Let me see, since my last post, we have now come to a grand *final* total of 12 goats, three sheep and five llamas! What started out as nine goats-seven angoras, a cashgora and a cashmere dairy. The cashgora and cashmere dairy and one angora all had kids- a buckling and two doelings! Ever so adorable!!! But stressful-not doing that again any time soon. The sheep are two ewes and a shetland ram, all with gorgeous wool, and the llamas are amazing. So much personality, and just beautiful fiber on them. Needless to say, you will be seeing a lot of fiber fun in my upcoming summer and fall posts.
Here are some pics-make sure you click on them to see the entire picture and in more detail!
As part of our animal acquisition, we were in dire need of a few renovations and accommodations. First we put up a big fence and gate to keep animals contained. That was a pretty straight forward task (except the part where we hit a cable line that shouldn't have been where it was) and I just LOVE our new gate. It makes it all look and feel "bona fide"! Then we needed to do two things at once-build a barn, and enclose the patio/garden area in fencing to keep the goats out. That was fun-I had rigged some temporary fencing to keep them out of the roses, and it worked fine for almost two weeks. Then one got a little more curious than the rigging would allow and as The Muscle got into the truck to drive the Boy to school, he saw a fence run by. Sure enough, my cashmere dairy was running around with a 4x6ft piece of fencing around her neck. Not really a good look for her, but hey, who am I to judge goat fashion. I couldn't get her head to turn *just right* to clear her horns (how in the hell did she do that, anyway?!@?!) and The Muscle came running with the heavy duty wire cutters to get her free. As soon as she was, she started nibbling grass at her feet like it ain't no thang. Sheesh! I rerigged the fencing around the patio, hoping it would last til the weekend, since that really is the only time we can work on these big projects, and wouldn't you know it, at around 2 in the morning, the dogs are going nuts, and I here a commotion ON the patio! Sure enough, ALL the goats were up there, and had stripped all the leaves off my rose bushes! Ack! I chased them off with the hose-they hate that- and slept on the couch to keep watch all night. I had to get up one more time to chase them away, then they finally settled on going to sleep. It was around a full moon, so with the extra brightness, it keeps them up and playing at weird times they'd normally be curled up for the night. Whew! That weekend, we got the fencing around the patio put up, and Monday night, my aunt arrived for a visit, followed by my cousin, Wonder Woman!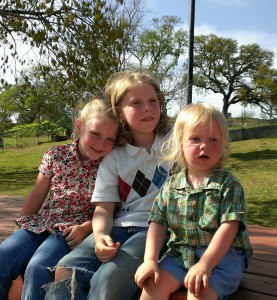 The next ten days went by QUICK. Our awesomest friends came to visit that following Saturday and he helped the Muscle get the barn going, and she and I hung out, gossiped and then we ATE! I made smoked ribs, wings, oven fries, two kinds of corn bread, deviled eggs, and there was bacon wrapped cream cheese stuffed smoked jalapenos, and salad. Yum!! The kids played and played and a great time was had all around.
Aunt and cousin went home, and it was finally time to bring home our llamas. Our fantastic next door neighbors offered to let us use their horse trailer, and even took time out of their weekend to help us bring them home. Good thing, too, because these girls were confused!! Loading them up was hard enough, but *keeping* them loaded was the challenge! It took the lady and Muscle to keep them in the trailer while the Mr and me dragged, carried and otherwise cajoled the rest in. Home at last, we opened the trailer, expecting them to come bounding out. Nope. We then had to *push* the sitting llamas out of the trailer. The last one got the idea, and left out at the last second. Whoa, you should have see the neighbors' horses reaction to these strange looking "horses"!!! It was hilarious! They backed up, as far as they could, without taking their eyes off of them in case they tried something crazy.
Now that everyone is home, and the pregnant girls are delivered safely, we are focusing on shearing everyone, which takes a lot of TIME. I am not very experienced, so I go very slow as I am terrified of nicking any of them, and causing an infection, or just hurting them in general. Who would have thought that electric shears could cut an animal??

Here's Shet Ramsey, before and after. Isn't he handsome?? His fleece is so luxurious! I can't wait to spin it up and dye it.
Aside from all this fun, I have been playing with my enamels, and cooking up a delicious soup for Lori Anderson's 7th Bead Soup Blog Hop! My original reveal date was the 13th, but has been pushed back a week, so you're just going to have to wait til then to see what I serve! Until then, you might want to check out the participants of the First Reveal here. Until next time, gentle readers and craft enthusiasts, Bead on. =^..^=