Well, after quite a bit of a break here, I'm ready to get back into the swing of things. That said, I most definitely have not been sitting around idle since my last blog post. Oh no! In fact, I feel like we have been SO busy, that I just couldn't quite find the time to sit down and put fingers to keyboard. (Get it? Instead of pen to paper?? yea…)
I will catch up with all the fun I've been up to-and as soon as I have finally delivered all the presents I made to all the good girls I know, I will share a special blog post about the holidays and the joy I had creating personalized gifts for some of my favorite women in my life that I am lucky to call friends. But until then, I want to share something I am incredibly excited about.
Two weeks ago, I received an email from Bill Zhang of ZnetShows, Inc. informing me that he knows Lori Anderson of Pretty Things Blog and is a fan of Bead Soup groups online, and he had seen my website and loved some of the pieces I created.  He wanted to know if I would be interested in joining their design team for their new cultured sea glass items. And if I was interested, I would receive beads from them, and anything I made would be shared on their Facebook page, their blog, and website, and a link to MY website on their testimonial page! Whew! Hmm, lemme think about that a minute…. Yes, PLEASE!  I wonder if Bill knew had me at "we can ship you a few pieces of our newest sea glass items". I love the chance to play with different, new and fun materials! Not that I ever met a boring bead, but I'm sure if you're reading this, you're nodding your head right about..now. A few days later, I received a dense package in the mail and couldn't stop grinning when I ripped the box open.
*********Don't forget to click the pics to enlarge!**********
Does this mix not just scream Valentine's Day?! It was the very first thing I thought of when I took in all the luscious reds, dainty pinks, and sparkly crystal! And the Glitz Factor X10!! Right away I knew there would be several pieces that were perhaps not meant for beach wear………….Sorry guys, but I had to go with my heart on this one! Before I share my favorite piece(s?), I will go over the rest. I loved everything I made. I had a blast with it all! It was almost sensory overload at times! Jk.. but red is a very stimulating color, and I really felt my creative synapses firing up a storm.
Since the main focus was the new cultured sea glass-that is, sea glass that didn't take it's time being made by lavishing around in a great body of water, letting the waves and sands of time gently polish its edges smooth and its surfaces matte-no, this sea glass is cultured, sipping wine on a Tuscany veranda watching the sunset over the orchard. No, really, it's man-made, and it is awesome. The free form shapes have great little details like the ridges one might see on a piece of sea glass that came from the bottom of a glass bottle and very abstract shapes. The shaped pieces were fun to use, being the perfect size, not too big as to add too much weight, but big enough that it can be seen! I made two "sets" if you will. Two necklaces, each with coordinating earrings, and one with a bracelet as well. I also made random earrings as the inspiration struck me. First up is my "Boho Beach" necklace and earrings, made with the cultured sea glass, hemp, brass and bronze wire, and brass chain, complete with hand crafted ear wires and hand made clasp.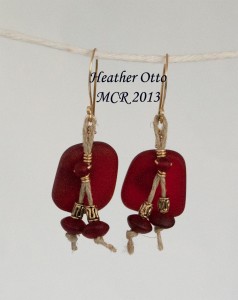 I had a heck of a time with my so-called light box-only one of the three lamps I intended on using were working, so I took it outside and instead had to fight gale force winds threatening to blow everything into the next county! A new home-made light box is going to be an upcoming featured post soon, so stay tuned. But I digress. Here are a couple pairs of earrings I was inspired to make:


These were fun, spur of the moment pieces I whipped up, because I just LOVE the sparkles! (They will also go PURRRfectly with my second necklace!)
And finally, here is my favorite part. My "Sweet Valentine" necklace, earrings and two bracelets: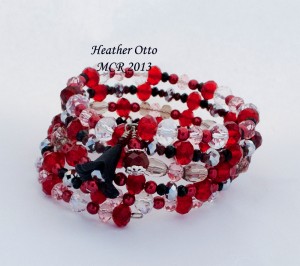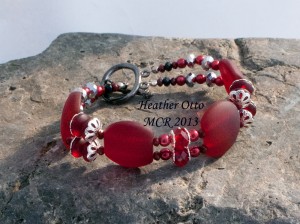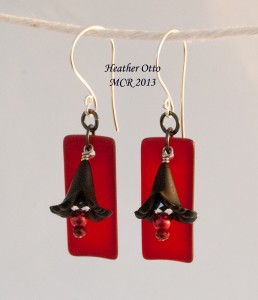 I LOVE the necklace and wrap bracelet. And the toggle bracelet. And the earrings. Ok, I love it all. And I'm not usually a sparkly, girly-girl. Not usually. But every once in awhile, She creeps out. Maybe it's because Love is in the air with Valentine's Day right around the corner? Who knows.
All in all, I had fun working with the sweet glass beads from ZnetShows, and I hope you enjoyed my designs as much as I enjoyed making them. If any of my pieces are selected by the staff at ZnetShows, they will be mailed off to Tuscon, where ZnetShows will be exhibiting at Gem Mall at the G&LW Tucson Gem Show, one of the largest wholesale shows in the US! Cross your fingers for me, and until next time, play nice, and try something new. =^..^=