It's cliche, I know. But it really is true.. Last time I posted, it was August. I look up, and here we are, approaching New Year's Eve! To follow up briefly with Tush Fluff-Here are a couple of pictures of my baby boy, Tavin, in some of his cloth diapers: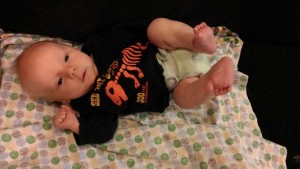 It has been quite eventful since the day we went in for his birth, and he is a joy to everyone! I doubt I will get to make another post before the new year, so I wanted to leave this as my last post of 2013:
My New Year's Resolutions for 2014
This new year, I will find peace within myself.. accepting my day to day choices as happy occurrences, allowing myself to forgive myself for not reaching the simple daily task goals I set for myself.
I will enjoy the messes my children make, allowing them to grow and learn and find effortless joys in life as they create new experiences and experience new creations.
I will remember to stop and breathe, smell the roses, feel the satin petals, and get my hands dirty.
I will challenge myself to be creative and happy with the end results, and if not happy, at least content that I did my best and allow myself to gracefully accept a compliment.
I will not allow myself to go to bed angry… with myself.
I promise myself that I will change this list, adding to it, but never taking from it, as I continue to learn to grow as a person. Because it is true. You can teach an old cat new tricks. =^..^=