This weekend was a whirlwind of activity! L came to stay the weekend and we crafted up a storm in Mama's Craft Room! Part of my See one, Do one, Teach one, I showed her the ins and outs of metal stamping, metal embossing, and using alcohol inks on metal to the best of my ability. Great fun was had all around and this was the one piece we completed, after all the experimenting:
Isn't she lovely?! Shh.. don't tell her I posted her pic on the interwebz.. 😉
We also spent an evening on our annual pilgrimage to Cafe Monet! We were a few months behind, and ended up being a tad rushed, but I cannot WAIT to see how our tiles and my platter turn out! Every year for the past four years we have been going, and it's so fun to see the dramatic changes in the pottery after it's been fired. It's also great fun to bring home and collect these tiles that I plan to turn into a table top! Adler was not a team player, however, and ended up only "helping" me with my platter, and didn't actually make his own.. which I kind of regret now, since Valerie was his age the first time SHE made one.. ah well. Maybe we will have to make a second trip sometime soon.. I will share them with you after we pick them up Thursday.
Also over the weekend, I finally started and FINISHED an idea that has been morphing deep within the recesses of my brain since the beginning of July. I'm on a Wire Working Etsy team, and they were having a monthly contest: Bugs! So for the entire month of July, I have been pondering, forming and growing this dragonfly in my head, waiting for just the right moment for it to hatch: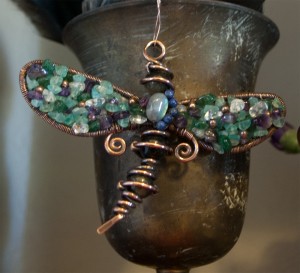 I call it "Dragonfly in July" and the tune of Reading Rainbow floats through my head every time I type it!I took a few pictures in different light qualities, so you can see just how awesome it looks no matter how bright or dim. This would look great on a chain or leather cord, or even if you just wanted a sun catcher in the window! The head and tail are gold sheen obsidian, with a labradorite and lapis body, flanked by wings in apatite, amethyst, green aventurine, and quartz, wrapped with love in copper. The labradorite has a nice flash, as you can see in one (or two..?) of the pictures. Flash is hard to catch in a photo!  As per my usual, I procrastinated just enough to light a gentle fire under my arse to meet the July 31st deadline, and I am very excited and pleased with the results. Ok, it was a roaring bonfire, but who's askin??  I do have to say, working with those tiny apatite chips was horrid. I kept smashing them with my tools. I think I will keep the rest and set them in resin….. yea….. I can see it now…………………………*daydream*
Ahem.. anyway. I have many more new items that will be coming out soon. It has been an incredible balancing act between jewelry making up in my Craft Room during the day time, and after the kids are in bed, crocheting my fingers off to get the flower girl dresses done for the upcoming wedding!! I exagerate. They are crocheting up quickly, and I only restarted Valerie's dress three times before I got the top looking right, and then only redid the arm holes four times until it was just right =D  But that's why I did Valerie's first, to check the gauge, yadda yadda. I am going to try and squeeze in a little bitty dress, too, for baby E! Hopefully, I will have plenty of time. If not, it's a LOOOOOONG drive to Oregon, so I'm sure I'll get it done before the wedding 😉
Well, until next time, keep on keepin' on! =^..^=