Well, it seems like ages ago that I signed up for this blog hop! Anything that was before "The Wedding" feels like it was eons ago. After the excitement of "The Big Reveal" from the 6the Bead Hop Blog Party (BSBP), I was on the lookout for another fun, sharing event. I caught a post about a holiday swap, and knew I wanted to join! I signed up on Shelley Graham Turner's blog post, and emailed and yay! I was in!
Part of the reason I wanted to sign up, was that I worried how deflated I would be after the crescendo of the wedding/trip to Oregon, and needed something that I HAD to get done, so as not to disappoint my partner, or break the rules of the swap.
My partner for this hop is Lori Bowring Michaud, of Artfully Ornamental. Lori and I have never met, never chatted, and really never knew much about each other before this hop other than that we had both been in Lori Anderson's 6th BSBP. Since I wanted to make something that would hold far more meaning to Lori, something that was more than "just an ornament" from a swap, I started reading her blog. I think I learned a lot about Lori from the words she wrote, and words she didn't write. Her love of family and community. Her love of the ocean and art. Her search for peace. Because, isn't that something we all search for? Something we all long to have surrounding us as we go about our day to day lives? With that in mind, I created an ornament from the heart that I hope Lori will not only be proud of to hang on her tree year and year, but one that makes her smile every time she sees it.
Lori has a great talent in hand painted stained glass ornaments. She sent me a link to the lion ornament she made her daughter last year, and it is just adorable! I knew I was in for a treat and was so excited when my package arrived:
Lori included a handmade card with such a beautiful picture of the beach on it. We have so much in common-we both love to have a hand in a wide variety of crafts and the hand made card just added to the specialness of this swap.  I was surprised to see two boxes and immediately worried that I should have done more, sent more. Having lived much of my adult life overseas, it is something I have sustained from that culture-when someone gives you anything, a gift or what have you, you must go one step above and beyond when you return the sentiment. But I am learning that that isn't what giving is about. When you give from the heart, the physical object is merely a means of conveyance. That doesn't mean that the object is any less important. It means that no matter how big or small, it is the perfect gift for that person.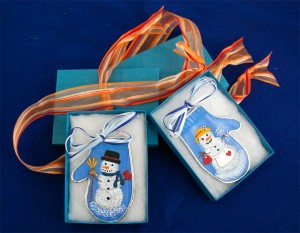 Lori's ornaments to me were perfect. I am originally from the north east, and I do miss the joys of snow days, hot cocoa after sled riding, or that certain hush that only comes in the evening as the snow falls, when the world is covered with a thick white shimmering blanket, the dark outlines of bare trees in the distance.. Lori sent me a little bit winter, conjuring childhood memories so sharp, I can smell the snow, my head tilted back, eyes closed, snowflakes brushing on my cheeks,  sometimes landing on my forehead for a split second before bursting into a water droplet. Thank you, thank you Lori! Thank you for these beautifully sweet ornaments that take me back to a time in my life where my world was so small, that I couldn't fit anything but peace and happiness in it! I will treasure these adorable mitten ornaments for the rest of my days and they will adorn my trees, prominently displayed year after year. <3
After pondering for days and days on how exactly to create Lori's ornament, slowly building it in my head, then sketching it in my book, and finally trifling through my supplies to make sure I had the exact ingredients I was conjuring in my head, I began. While visiting Oregon for I+A's wedding, we went to the west coast. There we scoured the beach for sea glass (none found), rocks (a ton brought home), and useful pieces of driftwood that we could create simple works of art with that will always make us smile as we reminisce about our trip. Little did I know at that time that I had found the perfect basis of my ornament to Lori.
Lori loves to walk on the beach. She finds all sorts of treasures-sea glass,  rocks, white periwinkle shells. She loves the beach, the sights, smells, sounds. The feel of the breeze. In her words to me, I read more. I read that there, walking the beach along the ocean with all its saltiness, calling birds and rolling waves, there is where she finds peace. With that in mind, I created her ornament, copper, drift wood from the west coast, red bamboo coral, mother of pearl star.
To bring a little bit of the ocean air to the waves, I used my new favorite patina method of salt and ammonia to the "waves". A hand made hook finishes off the ornament.
This was a great blog hop, thanks to Shelley Graham Turner of  Tori Sophia and Marlene Cupo of Amazing Designs for dreaming up and organizing this swap/hop, and a great big hug and thank you to my swap partner Lori!!
Please visit our other participants blogs and see what great creations they made and received as well!