At long last, the final reveal of the biggest, best BSBP hosted by the fantastic Lori Anderson of Lori Anderson Designs! My partner for this Bead Soup Blog Party was a talented lampwork artist, Elizabeth Bunn of Elizabeth Beads. To remind you of the Soup Liz sent me, take a peak here:

I love a challenge, and some of these pieces presented a bit of a challenge for me. I don't typically work with much glass, as my favorite medium to work with is copper wire and stones-glass usually worries me as I'm afraid I will break it!
But Liz did a great job with a nice solid focal (I may or may not have had it fly out of my hands once.. or twice..) and the rondelles she made are absolutely delightful with little swirls of aurora borealis seen when you hold it in the right light. The accenting bead mix played off of various aspects of the focal, from the sparkly faceted Topaz Swarovskis that picked up the glittery gold shimmer in the focal, to the little peacock rondelles and the even the rectangular pearls. The trouble I had was… how to make these all work with wire.
First, I spent many hours trying to decide how the focal should lay: horizontal or vertical. I wanted to present it in a way that I hadn't really seen this type of lampwork bead used before, and as a result, I started weaving. Then, I start wrapping, and twisting, and bending wire, until I decided it was done. I added a handmade chain-my new favorite kind to make (so watch out for it on many future necklaces) as the weight of the chain was perfect proportion to the weight of the pendant. A nice LOS sauna, and I called it a day. (ok, it took weeks, as I took the wire work apart many times before I was satisfied!)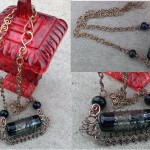 Next, I tried to design a piece around the clasp Liz sent. I don't work in silver color much, and I really wanted to make sure I got the requirements out of the way (using the focal and clasp) first, before I let myself play with the rest of the soup. But no matter how hard I tried, Liz's sweet little rondelles kept calling to me. You see I did use two in the necklace, but I had set the rest aside for something neat. I wanted to use them in a bracelet, so I could look down at them and lose myself in the swirls of colors they hold. As you can see, it co-ordinates very nicely with the necklace: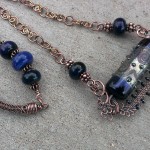 Finally, I had to use the clasp. The Topaz Swarovski crystals called as well. Since the clasp is smaller, I decided it needed to be a bracelet clasp. I thought the crystals would go well with the clasp as they were flashy and dressy. I added blackstone heishi beads, and had a cute little bracelet that would look great with a little black dress!

I decided not to model it, because my hands do this really weird thing when I do, and the camera adds ten pounds! But I am pleased with how it turned out.
Though the final reveal was extended, I didn't get to play more with my soup. Lots of crazy things going on around here lately, but I have them set aside, and will find ways to use them! Thank you for stopping by my blog and checking out my soup. Please head over to Liz's blog and see what awesome things she made with the Soup I sent her! And then, kick back with a cuppa, and browse through the list of 200 participants in this final reveal! Yes, 200. Out of over 500!!
Many thanks to our gracious hostess, Lori Anderson. Lori, may you find a ray of sunshine every day that makes you smile. And to Liz, thank you for the great soup!  Until next time, my friends, bead on.  =^..^=