Just when my loved ones were starting to worry about me, I joined the Bead Hoarders Blog Hop, hosted by Lori Anderson of Pretty Things Blog. When Lori first came up with the idea, I thought how brilliant it was to motivate us all to start using pieces we had been hoarding for weeks, months and ahem.. years! Besides beads, ,my stash includes several (TONS) of cabochons: larger focal pieces that do not have a hole drilled through them. Technically, I suppose, they aren't "beads", but they are a jewelry component that I am hoarding! Leading up to this blog hop, I started forcing myself to start using them-and many beads I had been hoarding saving, with happy results. Some I have shared already with fellow jewelry artists, such as this necklace I  made, using dyed bamboo coral and copper beads, sodalite disks and a large focal bead I enameled myself, all hung from a hand forged U shape and strung into super soft leather lacing:
Since I LOVE LOVE the bamboo coral, I have been terribly stingy with it!! I suppose I still am, considering how little I used it, but the point is, I DID use it! I have a LOT of solid copper beads, spacers and jump rings, and since I got such a fantastic deal on them, I have been terrified of wasting them using them all up-and therefore have been avoiding using them at all. The same can be said for the sodalite rondelles-a great deal on the single strand, they are great quality, and therefore, if I use them, I won't have any more like them-makes sense, right??
Another necklace I made was one of my first soldered bezel settings. Again, I started by choosing my focal, in this case, a cabochon I have been holding onto for awhile now, and found coordinating beads in my stash. AGAIN, these beads are some that I "got a great deal on" and therefore reluctant to "use them up".
The cabochon is a sweet Rocky Butte picture jasper, and I accented the necklace with sesame jasper beads I have had for YEARS. I didn't need to use many, since I wanted the focal to stand out-nature is an amazing artist!
Sometimes, it's hard to get over a "creative block". Writers have long claimed ownership of such blocks by dubbing them "writer's block". However, being on both sides of that argument since I write AND craft, I am officially changing the diagnosis to "creativity block". I suffered this affliction in the midst of trying to force my way through my hoard treasure, and decided I would look for inspiration from some of my favorite jewelry artists, Szarka. I had always been intrigued by her style and design, and her "Kaos" wraps just boggled my mind. I selected a large cabochon-a Burro Creek agate that I LOVE the shape and color of, and sat down one day to make my way through my block. I sketched out an idea, selected my wire, and set off. After getting 80% of the wrapping done, I realized I had used wire that was too thick of a gauge to accomplish the look I wanted. With a heavy sigh, I wielded my flush cutters and with a curse, cut all the work off that I had done. I was now back to square one. I had only spent about two hours working on it so far, so no big deal, right? -_-
It was all good though, because I already had the design in mind, and that was just a practice run. I was able to use one gauge smaller, and it was just what I needed. I had it 90% done in just about an hour this time around. But then, the unthinkable happened. I asked for constructive criticism. It sat on my bench for over a week after that while I pondered what steps to take next with it. I had been so excited about it, but now I knew there was something "wrong" with it, that I was trying to NOT see until it was pointed out to me. If others could see it, then it's real, right?? Finally, I was ready to tackle this once again. I was extremely happy with the end result. I used more leather lace, this time in black, and wrapped some sweet agate beads (yes, you guessed it, that I had been SAVING because I got a GREAT deal on them!) to use in the necklace, and my end result is my Swirly Whirly Burro Creek necklace.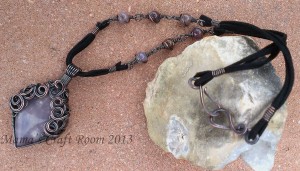 Now for the piece that I saved for my Blog Hop reveal. This cabochon is a sweet Serpentine that I snapped up in a Great Deal. To accent the cabochon, I chose little copper beads I've been *ahem* saving. For the necklace, out came the Great Deals once again! I selected some beads that I really haven't had *that* long, and some I….. have. Mookaite, New Jade (aka serpentine), more copper beads and copper spacers. I am thrilled with the result!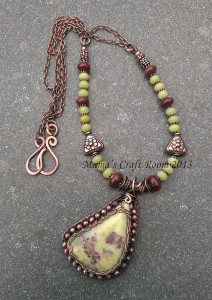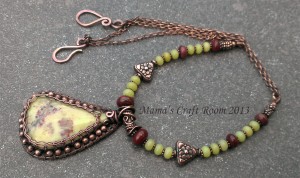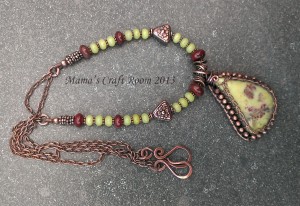 First I created a viking knit bezel to hold the stone. I wanted more wire work around it, so I decided I needed to add some woven wire work. As I did that, I incorporated the little copper beads around the outer edge. I strung the necklace onto beading wire, but decided I didn't want to add more weight, so finished it in a double strand of chain on either side. I created my own "French wire" using tiny copper coils over the beading wire where it attached to the hand made copper jump rings attaching the chains.  (If you click on the pictures, you will see them larger!) I finished it off with a hand made clasp. The yellow beads in the necklace match the base color of the cabochon perfectly, but for some reason, on the tile I used for a backdrop, it gives them a green tinge. They are actually soft yellow.
I have thoroughly enjoyed this Blog Hop! Many thanks to our hostess, Lori Anderson, and please stop by my fellow hoarders' blogs and check out what they've come up with during this very therapeutic exercise:
1.  Lori Anderson, 
Pretty Things
2. Nancy Dale, 
NEDBeads
3. Roxanne Mendoza, 
Roxi Designs
4.  Melissa Trudinger, 
beadrecipes
5.  Rana Lea, 
Rana Lea Designs
6.  Perri Jackson, 
Shaktipaj Designs
7.  Rita Avila, 
Jewel School Friends
8.  Linda Anderson, 
From the Bead Board
10.  Erin Guest, 
Renlish
11.  Joan Williams, 
lilruby jewelry
12. Diane Hawkey, 
Diane Hawkey
13.  Jo-Ann Woolverton, 
It's a Beadiful Creation
14.  Sue Kennedy, 
SueBeads
15.  Lisa Cone, 
Inspired Adornments
16.  Kari Asbury, 
Hippie Chick Design
17.  Nichole Byers, 
Nichole Byers
18.  Lori Jean Poppe, 
Adventures in Creativity
19.  Linda Landig, 
Linda's Bead Blog and Meanderings
20.  Lori Schneider, 
Bead Addict
21.  Molly Alexander, 
Beautifully Broken Me
22. Cece Cormier, 
The Beading Yogini
23.  Niki Sayers, 
Silver Nik Nats
24.  Elsie Deliz-Fonseca, 
Eliz-Eliz and All That Craft
25.  Amber Dawn, 
Inventive Soul
26.  Heather Powers, 
Humblebeads
27.  Sarah Goode, 
Pookledo
28.  Monique Urquhart, 
A Half-Baked Notion
29.  JJ Jacobs, 
Coming Abstractions
30.  Cheri Reed, 
Creative Designs by Cheri