After relentless, unusually cold weather here in the ATX area, it is certainly feeling a lot more like Spring lately. As such, it's getting to be that time of year again, yard work, barn and property maintenance, new fence building, and not to mention SHEARING season! I am pretty excited to shear this year, as everyone's fleeces look pretty darn clean and free of those horrible burrs that they all acquired last year (and that I happen to be allergic to!).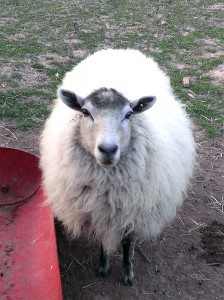 Recently, I have been dyeing fibers, experimenting with hand painting some fantastic roving I have that is a blend of merino, alpaca and tencel. It is a pin drafted roving, so it was a bit of a challenge as it is pretty thinned out (drafted). I think next time, I might just spin it, and then dye it. I spun it fine, and N-plied it-have I mentioned that I am addicted to N-plying?? Just when I thought spinning couldn't be more relaxing-BAM! The soothing, gentle motion of N-plying enters my world. I will have to share a picture once I set the twist and make a skein. I love the colors. I was going for a bright, Spring time scheme.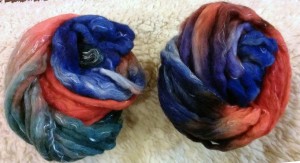 I've also been spinning up a gorgeous batt I bought from Seven Spirits Farm on Facebook. She created several art batts she named the "Downton Abby Batts" as each one was inspired by a character from the series. I bought "Robert", a luxurious blend of merino, alpaca, bamboo, carbonized bamboo and tencel. Included in my package was a little baggie of "extras"- silk ribbon, silver beads and felted angora. Seriously, if you love fiber, check out Seven Spirits Farm on Facebook-there are several new rovings just in and a Yarn Club! I am so glad I was able to pick up a bit more fibery goodness! But I digress, back to the batt: OhEmGee. The feel of the batt in my hand while spinning was so amazing-light, airy, silky, lofty, and oh, so soft you want a bed-sized pile of it to roll around in. Now I understand my cats when they finagle their way into a back of fluff. I had never spun from a batt before, as I was always a little intimidated by them, especially one so full of such great fibers.  But once I got going, I really got the hang of it. This batt encompassed many firsts-I had never spun bamboo, carbonized bamboo or alpaca! I consider myself a fairly new spinner still, and I loved exploring these new fibers!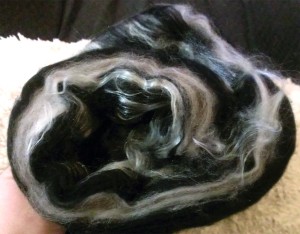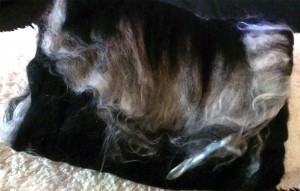 I spun as thin as I could, considering all the different fibers, and then yup, you guessed it, N-plied! The end result was a very tweed-y looking yarn that I just loved.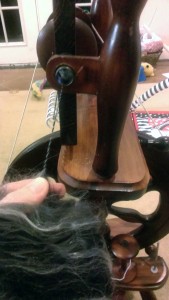 About the time I finished spinning half of the batt, and cast on to start a hat for the Muscle, I was invited to join a Facebook event: FB Knitting Winter Olympics. The goal was to knit a project during the 2014 Winter Olympics and finish it by the closing ceremony. I was very excited to participate and finished just in the nick of time. It was to be a surprise for the Muscle, but well, I was just too excited about it to not share. What do you think? Gold medal worthy?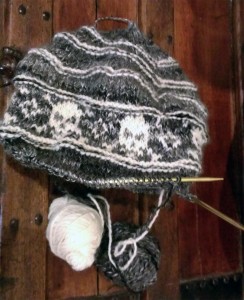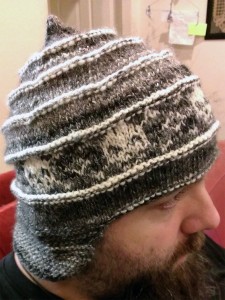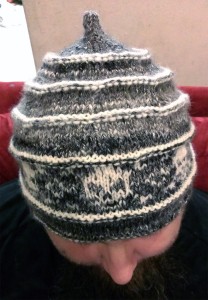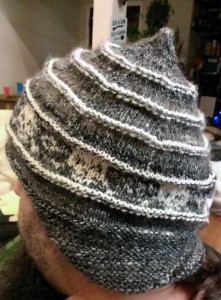 On the jewelry front, I have a few sketches done, and beads laid out. I am excited and eager and just a little apprehensive to climb back into the jewelry making saddle again. After taking several months off from creating jewelry, I am more than ready to get going again, and see the fruits of my imagination come to life. I will save those for a new blog post, however, as it is quite late. Til next time, my friends, keep calm and craft on. =^..^=